BEAUTY IS HEALTH MADE VISIBLE
Made in Switzerland, the skincare lines abounds with natural ingredients such as clay, algae, plankton, trace minerals and essential oils.
Using the principles of reflexology, the Balancing mask uses essential oils and colored clays for which Phytobiodermie is so well known. It requires no equipment. It is well suited for all skin conditions.
Chroma Therapy
Colours resonate with energy, each with an individual wavelength. In Chroma Therapy, seven colours of the spectrum are used to enhance the body's seven chakras in order to stimulate the body's own healing process. Each chakra is represented by a different colour, and like a cog, each chakra needs to be running in order for the entire engine (in this case our body) to work properly. Starting with the shortest wavelength, violet relates to your crown, indigo to the brow, blue for the throat and green for the heart, yellow for the solar plexus, orange for the sacral (navel) and red for the base chakra. On a simpler level, it could be exposing yourself to colours that would evoke different emotional and physical reactions… yellow to lift your spirits, blue and green to soothe.
BY HAND FACIAL TREATMENT
5 Element Facial Treatment 90mins RM 179
FACIAL TREATMENTS WITH BIODRAINEUR & CHROMAPUNCTUER MACHINE
| | |
| --- | --- |
| Curative Facial | 110mins RM 286 |
| 5 Element – Face Zone Treatment | 120mins RM 338 |
The Perfect Anti-Aging Treatment: The Chroma-LiftTM
The ChromaliftTM is the treatment for which Phytobiodermie received a Prize for innovation at the 1998 Paris Beauty & Spa Trade Show. In addition to the PHYTO 5TM products, it uses two pieces of Phytobiodermie proprietary equipment: The BiodraineurTM(drainage machine), and the ChromapunctureTM (light machine).
The ChromaliftTM is a state-of-the-art treatment, a non-invasive face-lift that is a very reasonable alteration to invasive modalities. It gives visible results after one treatment; but it is intended in a series of five to re-balance all 5 fluids – energy, red blood, lymph, blue blood and water.
| | |
| --- | --- |
| Chromalift | 135mins RM 426 |
| Extensive Chromalift | 150mins RM 518 |
| Ageless La Cure Treatment | 120mins RM518 |
*Add-Ons
| | |
| --- | --- |
| Eye Treatment | RM 98 |
| Eye-lift Treatment | RM 179 |
| Neck Anti-Wrinkle Treatment | RM 98 |
SKEYNDOR FACIAL TREATMENTS
Skeyndor Skin Care – Spanish cosmetic brand uses biotechnological, marine and vegetal origin raw materials. The name Skeyndor means "golden skin" in Spanish. Skeyndor was established in Barcelona in 1966 and now is distributed worldwide.
It is known for development of a unique concept: Scientific Cosmetics
Skeyndor combines the goodness of nature with the wonders of science in the formulation of its more than 200 products which range from professional salon and spa to home care.
The Skeyndor range is to repair damaged skin, balance problem skin and encourage the skin natural defences to work at optimum levels throughout a person's life.
Purifying Treatment90mins RM 179
It suitable for oily combination skin with dehydration surface, treating milia, blackhead and whitehead. It soften congested skin, helps to remove blackhead and impurities skin. Its regulates and purifies sebaceous gland secretions. It absorbs the skin's impurities, gives the skin more smooth and clear skin complexion.
Hydrating Treatment60mins RM 200
Its suitable for dehydration skin with skin desquamation effect and tend to sensitive skin. Its effective in restore skin moisture, soothe sensitive skin and reduce redness, immediately moisturises the skin and promotes changes in epidermis.
Brightening Anti-oxidant Treatments90mins RM 306
Its suitable for dull, fatigue, sun damage and uneven skin tone. Natural substance with an anti-oxidant effects are used in protection against aging caused by age, sun rays or stress.Its increase the natural defence and stimulate collagen synthesis. It also has an amazingre- mineralising and anti -ageing effect on the skin.
Derma Peel Advance Kit + Derma Peel Professional Pack90mins RM 371
Derma Peel advance kit offers professionals a new concept in biological exfoliation. It acts by specially weakening the desmosomal adhensive of the skin.
Encapsulation and liposomes vehiculisation system has designed to slow down solution metabolism and increase penetration and bioavailability.
Clear Balance Advances Kit + Derma Peel Professional Pack90mins RM 371
Specifically to normalise the three main causes of impurities: Hyperseborrhea, Hyperkeratosis and proneness to infection.
Specially for normalizing sebaceous secretion and anti-bacterial action.

Urban White Advance Kit + Derma Peel Professional Pack90mins RM 371
New generation of skin lightening treatment that acts directly on the melanocytes. The active ingredients are capable of reprogramming the behavior of the melanosomes. A formula created specification for reducing pigmentation in skin spots, and lightening the skin's natural tone.
Aquatherm Recover 02 Pack + SK Enzyme90mins RM 371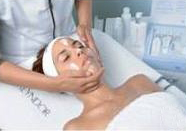 Specifically for sensitive & reactive skins.
Spring water medically proven to improve dermatitis, psoriasis, acne and skin sensitivity reactions. Brings immediate relief to a sensitised skin and simultaneously treats the common signs of premature ageing.
Power Hyaluronic Treatment90mins RM 406
Power Hyaluronic the natural hydrodynamics treatment which combines hyaluronic acid of different molecule weights with an aquaporins, the proteins in charges of transporting the water to the heart of the cell. Thanks to the Polarised water increases the absorption of water via the cell walls.It balance skin's natural hydrodynamics and obtain an optimum degree of hydration.Therefore increasing the radiance,softness,elasticity and flexibility of your skin
Eternal Youth Professional Treatment90mins RM 530
Eternal Youth, a professional treatment combining anti - ageing ingredients with Nano-liposomes Plant Origin Stem Cell. It effectively regenerates epidermal cells, helping to slow down the signs of ageing.
Your skin's re-birth in 21 days
.
Global Lift [ProGEN-in]90mins RM 730
A new global anti-ageing strategy designed to achieve a facial lifting effect, adding fullness to the face and reducing sub-mental fat [ Double Chin ] in mature skin.
Restore V-shape youthful facial contours in 28 days.